Planning a student field trip?
Planning a Mackinaw class field trip, school trip, educational tour, or student tour? Let Great Adventure Tours experienced staff plan all of your student travel needs.
Allow your students to step back in time, when life was much simpler , take them to Mackinaw for your next class trip. Nestled in the Straits of Mackinac, with its rich beauty, Mackinaw has earned the distinction as one of 2006's Top Ten North American Islands by Conde Nast Traveler magazine.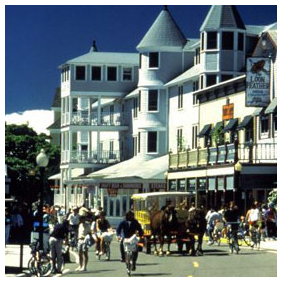 American, Great Lakes and Michigan history is rich on the Island, from military to commerce to the who's who of days gone by, your students will enjoy the opportunity to enrich themselves while visiting Mackinaw.
Mackinaw prohibit the use of personal motorized vehicles and instead students can enjoy leisurely horse drawn carriage tours, horse drawn taxi service, trail riding or many of the other alternative modes of transportation: biking, hiking, sailing, boating, kayaking or simply strolling around the Island.
Mackinaw is home to the world's largest horse and buggy livery. Come take a one hour and 45 minute narrated historic and scenic horse carriage tour through the island. Highlights include Surrey Hills Museum, Arch Rock with its breathtaking natural beauty, Fort Mackinac and spectacular island vistas for the camera fan!